Simone
Leader.Advocate.
Champion.

Simone Bilesis a Champion
As an athlete, she is the greatest gymnast in the history of the sport and considered one of the greatest athletes of all time. The 4-foot, 8-inch dynamo has boundless energy, natural strength and a fierce determination to be the best Simone Biles that she can be.

Over the course of her distinguished career, the most decorated gymnast in American history has captured 32 medals. She is the first American woman to win a record-breaking seven (7) National All-Around titles. She is the first female gymnast to capture five (5) overall World All-Around titles, including the first to ever win three (3) consecutive All-Around titles. The first American gymnast to medal in every event at World Championships, she also has four (4) gymnastic skills named after her. But these are not the only things that define her greatness.
Simone Biles is a
passionate advocate for
mental health reform.
Simone
is a Leader.
She's a joyful and passionate person who works to inspire others to be the best version of themselves no matter their life experiences. She uses her platform to advocate for mental health reform and vigorously campaigns in support of efforts to provide education and assistance to children in the adoption and foster care systems.
These cause-related initiatives are an extension of her own experiences which she continues to courageously share with others to help bring attention to the need for understanding and compassion.
"Don't wait until you've reached your goal to be proud of yourself. Be proud of every step you take toward reaching your goal."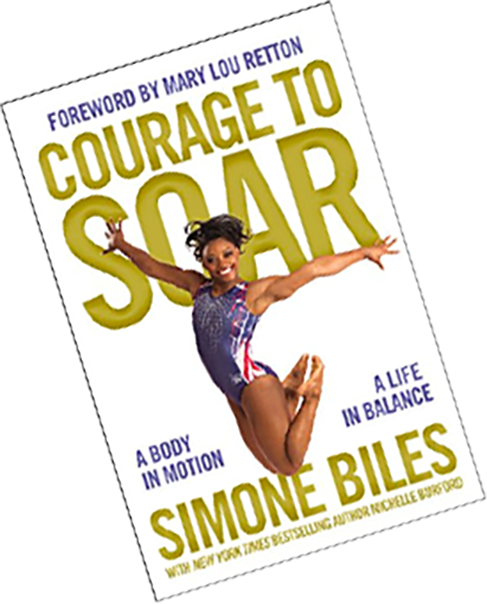 Simone explores new and exciting opportunities to expand her own growth and development as a person. Her autobiography, Courage to Soar: A Body in Motion, a Life in Balance, shares her love for encouraging people to pursue their dreams and inspire the next generation. The book was number one on the New York Times best sellers Young Adult list and was turned into an award-winning Lifetime biopic. And her Facebook Watch series, Simone vs Herself, was recently nominated for a Sports Emmy.
Simone's leadership and accomplishments have earned recognition including TIME 100 Most Influential, Forbes 30 Under 30, Ebony Power 100, People Women Changing the World, USA Today 100 Women of the Century, two-time Associated Press Female Athlete of the year, and three-time Laureus World Sports Awards Sportswoman of the Year, among others.
Simone Biles
Is the Greatest
Gymnast of All Time